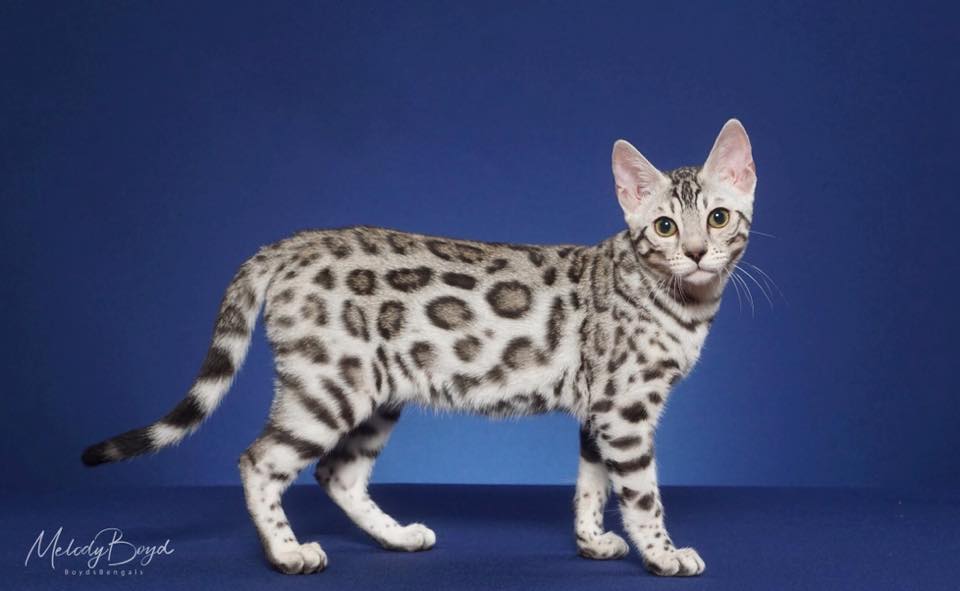 Bengaluxe Silver Belle
Sire: Beautiful Wild Balthazar /WC
Dam: Chococat of Bengaluxe
HCM Screen: Normal
SBT: SBT 010819 014
PK Deficiency: N/N
Pedigree: Silver Belle
Description:

It has been over 10 years since we have had a silver Bengal in our cattery. This stunning girl has an amazing head shape, rounded green eyes and a wild expression. She has fantastic contrast with minimal tarnish to her coat, and a wonderful horizonal flow to her rosettes. Best of all, she has the sweetest temperament. Thank you to Louis Anais of Bengaluxe for this gorgeous girl.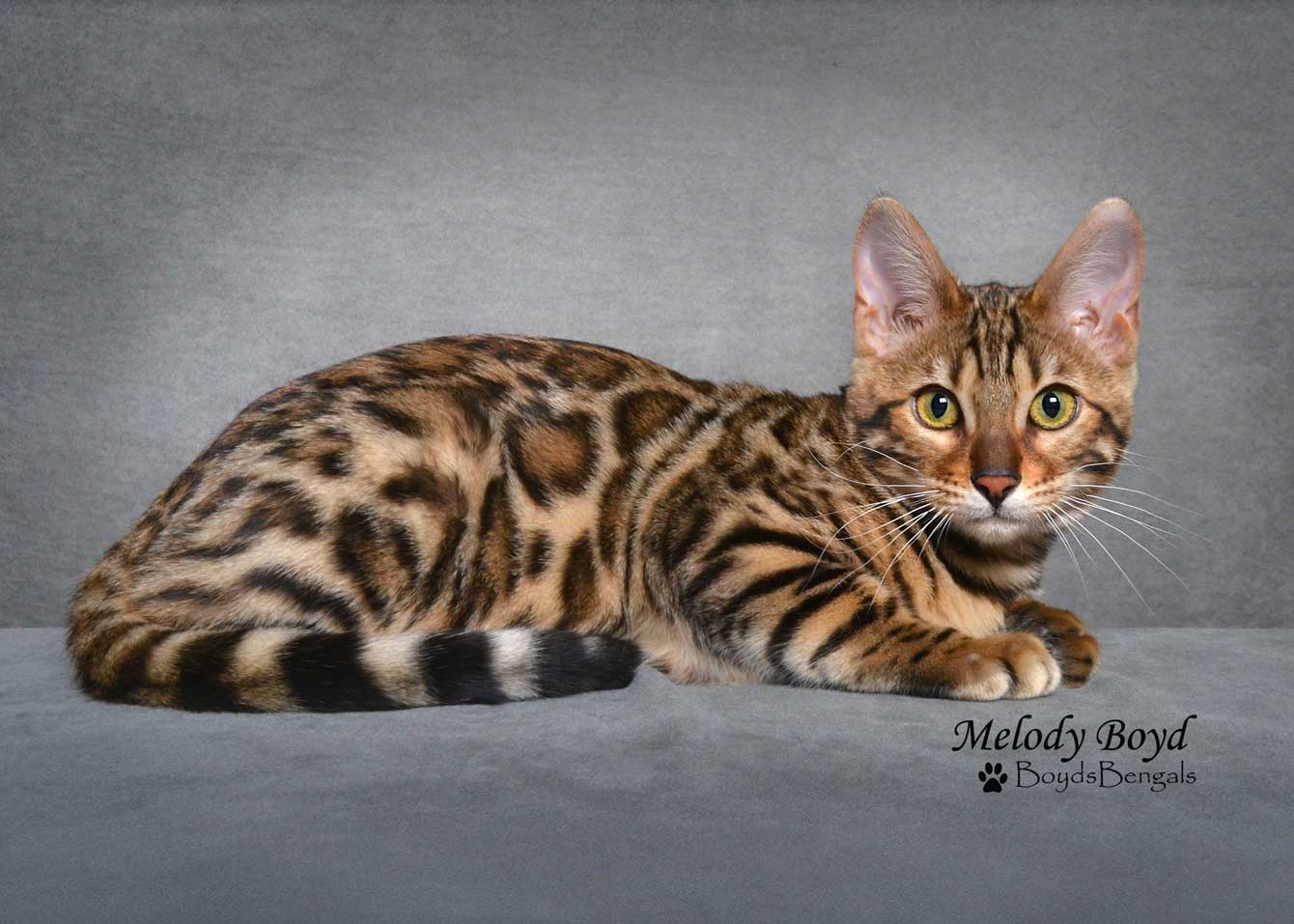 BENGALIAS BEAUTY
Sire: Sunstorm Enter Sandman
Dam: Praslin Nefertari
HCM Screen: 11/27/2018 - Normal
SBT: SBT 100115 019
PK Deficiency: N/N by parentage
Pedigree: Beauty
Description:

Beauty comes from Bengalias cattery in Germany. She is a gorgeous, brown rosetted girl, with a straight profile, good depth to her chin and a nice thick tail. She has a very soft, silky coat and has good boning and substance to her. We would like to thank our dear friend Martin Wagner for entrusting us with this treasure.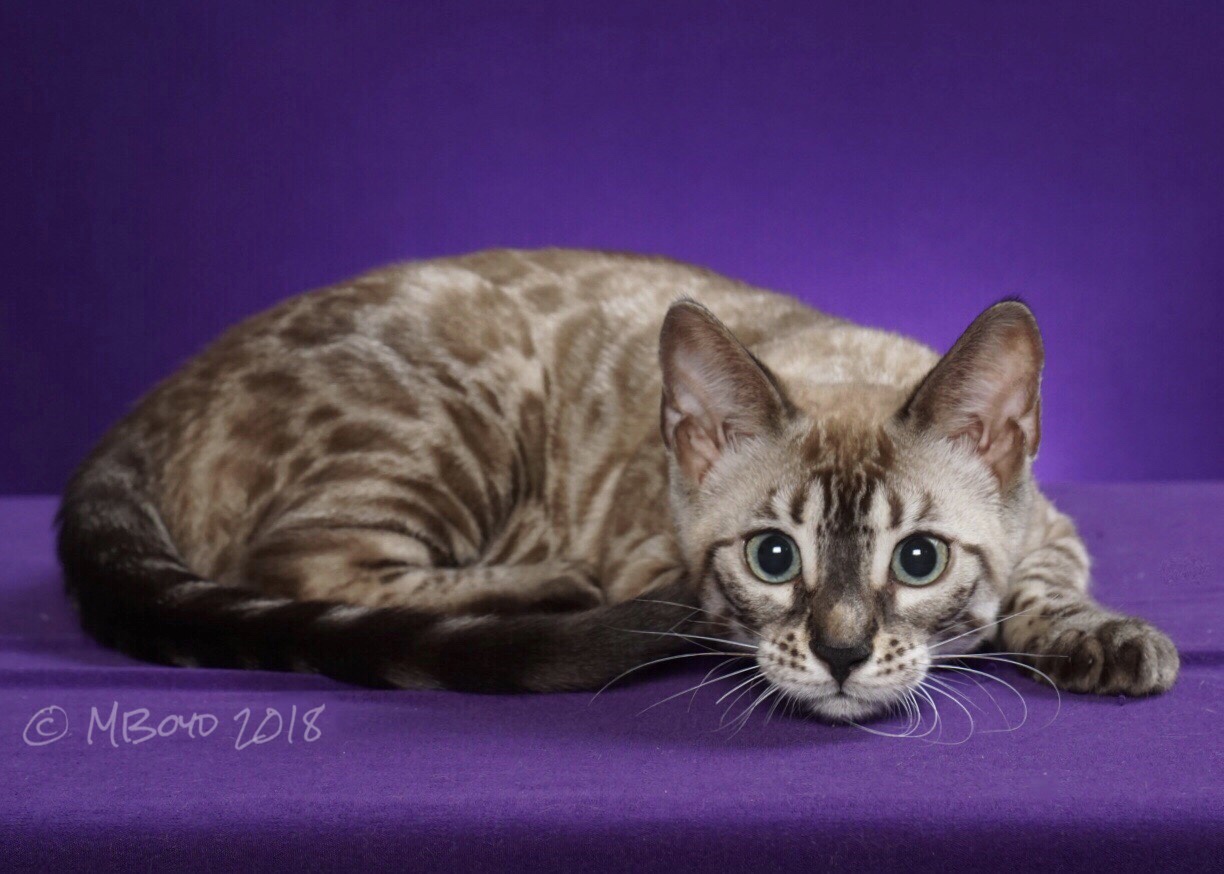 BoydsBengals Moet Chandon
Sire: BoydsBengals Breaking Bad
Dam: Diamonddust Champagne on Ice
HCM Screen: Pending - end of June 2019
SBT: SBT 120717 0016
PK Deficiency: N/N by parentage
Pedigree: Moet
Description:

Moet is our one of a kind keeper girl from BoydsBengals Breaking Bad and Diamondust Champagne on Ice. She is a rosetted seal mink charcoal. She has a very sweet personality, beautiful coat and rosettes. We are looking forward to our next generation of kittens from her.